We Use Carefully Developed Strategy & Experience To Generate Amazing Results
Our team specializes in search engine visibility and the entire inbound lead process. In short, we make your phone ring!
We have a proven track record in increasing online visibility for our clients which results in more paying customers.
Our strategies are designed to achieve one or more of the following goals:
We can help you achieve great results across several key areas including Search Engine Optimization, Social Media Marketing, Email Marketing and Digital Marketing.
We combine creative ideas with our vast experience in search technologies to deliver measurable results for our clients. We can help you build a sustainable, meaningful relationship with your clients by engaging them with your brand using social media promotion.
OUR CLIENTS
Below are some of the amazing companies we have the privilege of working with: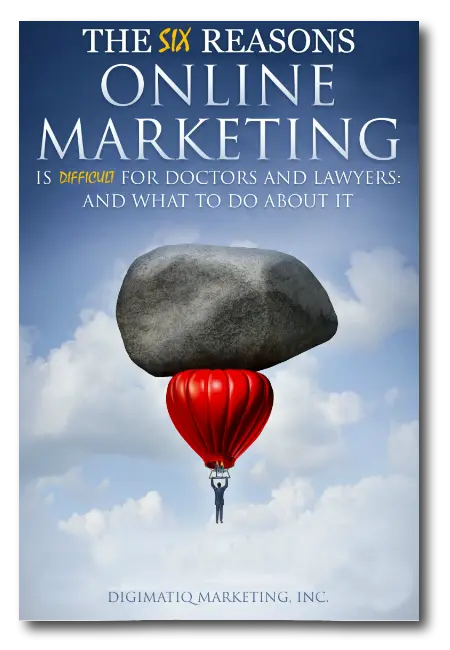 6 Reasons Online Marketing Is Difficult For Doctors & Lawyers (And What To Do About It)
Efficiency is doing things right; effectiveness is doing the right things." ― Peter Drucker, author of The Principles of Management
Doctors and lawyers with solo or small practices tend to make six overarching mistakes with respect to digital marketing that greatly increases their feeling of loss of control. Eliminate these problems and you're pretty much guaranteed more leads with less stress.
I have only been working with this agency for a few months but I would recommend them without hesitation. Their client support has been outstanding and they have exceeded all of my expectations. I have worked with many SEO companies but none of them can compare to the level of customization & efficiency as Digimatiq.
Highly recommend Chris & the Digimatiq team. They helped me build a website for a new company I was starting which turned out really great. We worked together on SEO & SEM services, and I've been really happy with the results. Their consultative approach is refreshing, as I spent months dealing with other companies trying to hard sell more expensive solutions. Thanks for everything Digimatiq!
My company's Google rankings and overall site traffic improved dramatically after just a few months of working with this agency. The service we've received from their team has consistently been above and beyond our expectations.