[Di-ji-MAH-tik] – Noun: A More Intelligent Digital Marketing Strategy
Fully custom, non-proprietary digital marketing solutions to power the growth of your business.
A Results-Oriented Approach
We have a proven track record in dramatically increasing digital growth
Why Clients Choose To Work With us...
Our digital marketing work speaks for itself.
We deliver an outstanding service custom-tailored to each and every one of our clients — big or small.
Christopher Litchfield is the CEO of Digimatiq Marketing. With over 15 years experience in the digital marketing industry, Christopher has helped build & develop strategy around thousands of digital marketing campaigns spanning a wide range of business categories. He is also the founder of Great Online Promotions, a custom promotional products e-commerce built from the ground up, and founding partner of Future Forward Ventures, an early-stage venture capital firm.
A graduate of Elon University's Love School of Business, Christopher quickly built upon a successful career in e-commerce, search optimization and paid advertising at a time where the technology was just emerging and the marketing industry was beginning it's shift to online advertising. Chris built upon years of in-house marketing experience to becoming a lead marketing operations strategist for Yodle, Inc (now Web.com) prior to founding Digimatiq Marketing.
To this day, Christopher enjoys nothing more than putting this powerful set of tools to work helping successful businesses thrive and grow in the digital marketing era.
In his spare time, Christopher enjoys anything outdoors – traveling, camping, trail running with his dog, or hanging out with his family.
Co-Founder, & Chief Marketing + Services Officer
Daniel is the Head of Marketing & Relationship Development at Digimatiq Marketing. With over 20 years of marketing expertise, Daniel has built his career as a digital marketer focused on helping small businesses maximize their marketing efforts.
As a thought leader, Daniel has consulted & built complex marketing, communications and business efficiency solutions for over 30,000 small to mid-sized businesses including health care practices and even enterprise organizations like Forefront Dermatology, Sona Dermatology & Medspa, Maaco, Meineke, Carstar, Cottman Transmission, Mr. Rooter, Mr. Electric, Aire Serv, Rainbow International, Two Men And A Truck®, Top Flite, AAMCO, Lawn Doctor, Pro Oil Change, Drive N Style, Novus Autoglass, Hansons Windows, Speedy Glass, B-Dry, Moran Family of Brands.
Daniel is on the board of the American Marketing Association – Charlotte Chapter and a founding partner of Future Forward Ventures. He is also an adjunct professor at CPCC's small business center and is one of the two instructors selected in the state of North Carolina to teach Facebook's Digital Marketing Certification Program.
Daniel enjoys helping businesses experience the success of digital marketing, as well as continuing his own educational pursuits. In his spare time, Daniel enjoys coaching his kid's sports games, traveling & guest speaking.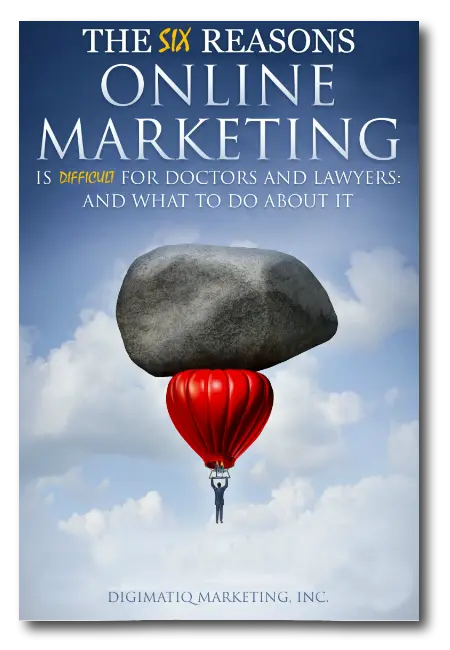 6 Reasons Online Marketing Is Difficult For Doctors & Lawyers (And What To Do About It)
Efficiency is doing things right; effectiveness is doing the right things." ― Peter Drucker, author of The Principles of Management
Doctors and lawyers with solo or small practices tend to make six overarching mistakes with respect to digital marketing that greatly increases their feeling of loss of control. Eliminate these problems and you're pretty much guaranteed more leads with less stress.